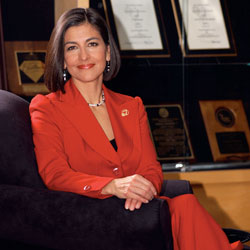 Drive, Energy & Martial Arts. Veteran KMGH Channel 7 anchorwoman Anne Trujillo and her husband of 19 years, Mike, exercise together. They get their kicks by doing karate, a program of progressive martial arts they find has both physical and mental aspects to it. "It's very physical, but there's a mental component too. With karate you learn forms, synchronized movements," the 7NEWS journalist says. Firmly committed to a hectic schedule of work and family that would exhaust many, Trujillo likes having the opportunity to take part in physical activity. Kickboxing, boxing, grappling and other movements are part of the karate experience. "You visualize people attacking you," she says. "Someone's coming at you with a kick. You learn what to do if someone is attacking. It's a whole discipline, and there's so much to learn about fighting, bobbing and weaving and using leg movements." She laughingly adds, "My husband says every once in a while I get a crazed look in my eye." Mike has known Anne since her first day on the job at Channel 7, so he may have seen that look on other occasions as she grappled with the rigors of electronic journalism. When she joined the station, he was already working there, and he is now a freelance photographer. For Trujillo, doing athletics wasn't part of her growing-up experience at a time and place when "girls just weren't doing that." She says, "I was not involved in physical activities as a child. But I enjoy being physically active. I love having that opportunity now. It's rejuvenating and nice to do something that's dramatically different."
Trujillo, a Coloradoan by choice, says many Colorado women enjoy physical challenges. "I meet so many who test the limits physically. Colorado is one of those places that breeds risk-taking. People are health-conscious here. They care about the food they eat, they care about exercise," she says. Karate is a newfound chance to express her energy, a way to kick out and kick back. Though she maintains a pace that would fatigue others, Trujillo considers the time spent doing karate time well spent. She also thinks about resuming playing golf "someday" when the family's two teenagers have left the nest. While Trujillo's childhood was not a robust round of sports and games, it did include an emphasis on striving as she grew up with a work ethic firmly embedded in her way of living. She holds fast to the ideals her parents instilled in their homes, the family living first in Santa Fe, then in Los Angeles and finally in Denver. "My parents married young and grew up poor. From the very beginning, they instilled a work ethic in my brother and sister and me, and they taught us to work for what we could achieve," she says. Her dad worked at a grocery store during the day and studied at night to become an engineer. Her mother was in sales at KBNO Spanish-language radio station in Denver. "They knew they wanted us to work hard," she emphasizes. After a stint in California, the family moved to Denver, where Anne's father began work at Martin Marietta. He was an independent contractor for about 25 years.
Trujillo's father lost his battle with cancer recently, a poignant loss for her as his influence was so strong. Her mother was a "huge influence" too, and, fortunately for Trujillo, her mother lives in Littleton, as does her sister. The anchorwoman is a committed parent who rises at 6:30 a.m. to spend time with her children, though she works late doing the 10 p.m. news broadcast. "When my kids are gone, I will have more time. I might try golf," Trujillo comments. She and her husband used to play golf but have focused their time on their children since becoming parents. Their son is a senior and their daughter a junior, both in high school. The family spends a fair amount of time taking in hockey games. Friendships are difficult at this stage in her life. "Because I work nights, I have a lot of phone friendships. It's hard to have friendships," she says. When young, Trujillo wanted to be a nurse and later started out in college studying business. Eventually she discovered journalism though she says she would "change my major about 25 times." At the beginning of her junior year in college, she heard about an internship in Washington, D.C., working for former U.S. Sen. Bill Armstrong. Journalism as a career intrigued her. She recalls, "It was fun watching Armstrong interact with reporters and watching him focus. Watching him process. I enjoyed seeing him putting his ideas on paper."

Trujillo would work at KBNO radio in Denver and two Nebraska television stations before moving back to Denver. By September 1984, she was working at Channel 7, where she is celebrating her 21st year. Her work has been recognized by the National Association of Television Arts and Sciences, the Colorado Broadcasters' Association, the Associated Press, the Colorado Hispanic Media Association and Women In Communications. She has received the Lowell Thomas Good News Award for her series of reports on high school students who excel. Considering herself fortunate to work in the city where she spent her school years, Trujillo says she values a job where she communicates information to people. "I think my job is important. I get to inform people," she says. Though she's speaking to large numbers of people any time she's on the air, she doesn't think about all the people who are watching. She confides, "I am shy. I speak to the camera." Trujillo is a journalist, a wordsmith: "I like playing with words and working with three different newscasts." She co-hosts with Mike Landess during the 5, 6 and 10 p.m. newscasts. In addition to her family and career, Trujillo works in the community as she finds projects and organizations that intrigue her. One of her interests is Escuela de Guadalupe, a kindergarten through fifth-grade school in Denver. She also volunteers at the Littleton Candlelight Walk. She has been on the boards of the Latin American Educational Foundation and Mi Casa Resource Center for Women. A member of the Latino Outreach Committee of the Denver Art Museum, she has received numerous awards from the Colorado Hispanic Media Association, the Rape Assistance and Awareness Program (RAAP), the Museo de las Americas and others.
Trujillo believes Denver women are fortunate to have the opportunities they have to be who they want to be. "The women I run into are very savvy, very bright. They amaze me. Some choose to stay home, some choose to have children, some work. They do so many bold things," she says. For this successful Denver woman of long standing, the climate is perfect for achievement. "I meet so many successful women here. Colorado is one of those places where entrepreneurship happens. People find their way here," she explains. Anne Trujillo brings an energetic focus to her work, her play and her community. There's no doubt she has found her way here, and the community is much the better for it.
By SHARON ALMIRALL
Photography RICK HEITMAN