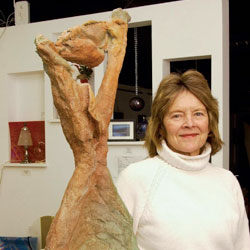 Deborah Grebenar has come to terms with her art. I drove to her studio and knew I was in the right place when I saw the lifesized concrete dog in the front yard. Farther away was a rock garden with an earth goddess nestling in the earth. When I stepped through the doors into Deb Grebenar's art studio, I felt as if I was stepping into a kiva, and it felt like a very sacred space. After spending more time with her, I knew I was right — her spirit resonates in her work, her studio and her being. When Deborah Grebenar creates, it is a sacred act; her sculptures bless. For example, Earth's Blessing is a beautiful Yule marble statue of a Ute Indian youth gracing the entrance to the Frisco Historic Park. A 3,000-pound tribute to the four directions, four seasons, four-fold path and the four colors of corn — all are embedded in the permanent installation created by Grebenar. Other commissioned public and semi-public permanent sculptures of Grebenar's can be found in California, Nevada, Utah, Pennsylvania and many cities in Colorado — Gunnison, Glenwood Springs, Breckenridge and, of course, Denver.
Her latest installation was created in her favorite way — on site, interactively, and with the community's involvement from the first concrete pour to the consecration. Michael Ritchie owns several properties at 26th and California, and he commissioned her to build a concrete sculpture on site. The community and the artist together influence the creation process of public art. Grebenar believes the community feels honored to have art placed in the neighborhood. In a sense, they "own" her while she is there working, and part of her lives always with the community through the sculpture. For three months, Grebenar poured and molded Re-Creation, a 16-foot-tall masculine form that leans and becomes feminine, supportive and supporting. She sees the sculpture as representing that we can "be all things … at times more soft, internal, feminine, but we can also take on moving forward, a more active nature." She delights in community members being part of the creative process, getting to know her and also sharing with her what they see in the art. She hadn't realized it, but when a neighbor said that Re-Creation was also a tattered American flag, she saw what she hadn't before. The children often see teepees. The actual inspiration for the sculpture is the Native American story of Calf Woman.
Grebenar's telling of the tale:
"They say a cloud came down from the sky (or a white calfskin unrolled) and off stepped a white buffalo calf. As it rolled onto the earth, the calf stood up and became a beautiful young woman who was carrying the sacred bundle in her hand. She entered into the circle of the Lakota nation and sang a sacred song and took the bundle to the people, and taught them seven sacred ceremonies. One was the sweat lodge for purification. One was a naming ceremony, another was the healing ceremony … she promised to return again, and made prophesies. One was that the birth of a white buffalo calf would be a sign that it would be near the time when she would return to purify the world — thus she would bring back harmony and spiritual balance." Grebenar confides, "Some believe that she is the unfurling bundle in my sculpture, Re-Creation." Re-Creation belongs to the 26th & California community, but is available for viewing and touching by all the public. The maquette (a 30-inch miniature) of Re-Creation is available for viewing and for sale at Tennyson Gallery (www.tennysongallery.com) in North Denver.
Grebenar's current project is a concrete sculpture for the Church of Religious Science on Ogden Street. She is excited to be doing a piece in Capitol Hill. She showed me the clay maquette, and it is a beautiful heart- or V-shaped abstract of two bodies supporting and being supported by one another. The idea was born from working with the logo for the church. Of most of her work, she describes its essence as "maybe Self and Spirit Self, Self and God, Self and Other Self, or the unity of masculine and feminine. I don't care what anyone sees, as long as they see something that is of service to them — whatever needs to be held up, reformed and spiritually transformed." This essential focus is, in itself, a transformation for Grebenar. Only a few years ago, she created only goddesses because she needed to see them. It was her attempt to balance years of perceiving only the male God figure. She now sees that perfect balance is in the dance. The dance of active and reflective gives us — as women and humans — much power. She loves being a role model of feminine power for girls, especially when they can see her working. At Breckenridge's annual wood-carving event, she is out there with a chain saw — and the only woman among men. "I like being that evidence for little girls to know they can weld, mix concrete, wield a chain saw and buy power tools!" she says.
Dance is a metaphor for movement with Grebenar, who is also a watsu water massage therapist. Whether the dance of body and water and the watsu therapist guiding and gliding through water, or the dance of artist and medium dancing into creation, all is movement. Sculptural art encourages people to move around the piece. She believes the water massage makes her a better sculptor, and the sculpting makes her a better body worker. Whether as artist or body worker, she focuses on the interaction of separate beings moving together to shift consciousness into something new. Whether art lover or watsu client, we are moved by her work. Grebenar's career as an artist has moved forward more powerfully through the years. When I asked her how she came to believe so strongly in herself, her talent and her work, she replied, "Incrementally!" Little Deb Grebenar began sculpting at age 5 when she found Ivory soap and a paring knife. When she discovered alabaster, stone felt so familiar. It looked like Ivory soap! She's been an art teacher, postal worker, retail sales clerk, printmaker, illustrator, fabric artist — but when she went from flat art to stone, she knew she had found her medium. She discovered her full artistic self incrementally, and came to name herself "sculptor" even more incrementally. Grebenar began her definition of self as "sculptor" years ago in Frisco, Colorado. She knew she wanted to sculpt, but did not believe she could afford a studio. Immediately she found an ad for the "perfect gallery and studio" for $250. It took her 18 months to say yes to herself. Her next step was to place one 18-inch sculpture, Moonchild, in her friend's Breckenridge bookstore. She had the courage to do so because it was a bookstore, not a gallery. The piece sold for $600.

Another bookstore sculpture came next, and a woman on a fixed retirement income fell in love with it. She paid $25 monthly until she could take home the $325 sculpture. These two sales — and her patrons — gave her the courage to open her studio space in Frisco as her gallery. When patrons were spending thousands for her work, she realized she had something to share. Her art sales humbled her while building her confidence. As she says, "My work doesn't make my patrons 'extra cool.' They want it because they just want to be around it." Grebenar knew she had truly become "sculptor" when her studio, now in Denver, was a leaky flat-roofed carport with plastic around to keep out the rain and rebar rammed through the roof to hold it up. She realized she needed to be committed enough to herself to build the studio she needed. It is now the beautiful kiva she works in today. Next she wanted to find a home gallery, and looked all around Denver before finding Tennyson Gallery. Her work needed a space with high ceilings and room to walk around the art. She wanted a gallery that felt celebratory. And she wanted a gallery that would work with customers to pay over time so that cash flow would not prevent someone from living with beauty. She walked past Tennyson Gallery while it was not quite fully converted from the transmission shop it used to be, came inside, and knew she had found her new gallery home. She trusted that she would find it, and she did. Deb Grebenar today is fearless. She quotes Marianne Williamson and Nelson Mandela about our responsibility to reach our full potential. She now says yes without fully knowing how. The tall structure of Re-Creation was a stretch for her, but she knew she would figure out the engineering. She trusted herself.
She now thinks of herself as a trapeze artist who lives for the leap — that moment when she must let go of all she knows to fly through the air without a safety net, trusting that she will be guided and caught. Her advice to all of us who are getting ready and perhaps even swinging on the bar? Keep swinging until you're ready, then leap!
by TRINA HOEFLING
Photography KIMBERLY DAWN