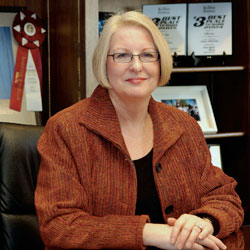 VIRGINIA BERKELEY
President of Colorado Business Bank
When Virginia Berkeley arrived in the dusty western Oklahoma town of Altus, she didn't think she'd find anything there, much less her future. Surveying her employment options, she figured her best shot was the town bank. As her husband fulfilled a military commitment at the nearby Air Force base, Berkeley filed checks, worked the teller booth and completed other duties as assigned. Evenings and weekends, she worked toward her MBA and took additional classes to learn even more about banking. When the Denver native returned home a few years later, Berkeley was accepted into the management training program at one of Denver's leading banks, de rigueur for anyone wanting to enter the management ranks in the industry, and unusual for a woman at the time. "There have always been more women than men in banking," says Berkeley. "Just not in the management ranks."
Today, as president of Colorado Business Bank, she heads up the largest publicly traded bank headquartered in the state. As the bank's name implies, its niche is business and professional banking products for small- to medium-sized businesses. The bank was founded in 1977 as the Women's Bank. In 1994, new owners asked Berkeley — who had spent the past several years running smaller banks in the Denver area — to join the bank as its president. The 1990s were a time of tumultuous change in the industry, and Berkeley's new job challenged her to guide the bank through those changes and increase the bank's assets on a somewhat parallel time track. Her predecessor at the Women's Bank had been the sole decision maker. "As a result, her staff had been very good at doing what they were told to do," she says. Berkeley had a different vision for the bank's new direction: "I wanted an empowered team, and I wanted Colorado Business Bank to be the preeminent business bank in Colorado."
Starting with about $100 million in assets — small by banking standards — Berkeley set about the task of building a team that could get them there. Today, nearly all of the people Berkeley chose for that initial team are still working with her. She is especially proud that all have progressed in their respective careers and that several of the bank's officers are women. The bank is poised to surpass $2 billion in assets in 2006. "This is all organic growth," Berkeley says. "We did this with the team we started with and without acquiring any banks." Berkeley is an ardent supporter of professional women. She believes that although women bank executives are a more common sight these days, the next generation of women in the industry will be the ones to shatter the glass ceiling once and for all. At the same time, she's quick to point out that career sidetracks and disappointments are an equal opportunity frustration. She says, "Over the years, I've seen what we've all seen: Women being shoved aside and passed over for promotion. We tend to blame it on that glass ceiling. Guess what? It happens to men too. When I see it from my perspective today, I understand that now. It isn't always discrimination, it's life." Berkeley says that when career speed bumps happen, attitude separates the survivors from the rest of the crowd. "Sometimes that lateral move is the best move," she says. "It can prepare you for that next level of responsibility. It happens. The real telling is how you respond to it." She foresees a mind shift that will change how women keep work and family in balance. Colorado Business Bank was one of the first banks in the Denver area to offer part-time positions to professional employees. "Instead of trying to do it all, people want options and flexibility. We'll see more part-time positions and job sharing for professionals because the market is starting to demand it," she explains. Berkeley has also observed an entrepreneurial trend in banking. For a bank whose customers probably have entrepreneurial tendencies themselves, it's a good fit. For anyone wanting a career in banking, being comfortable with change is a prerequisite. "Change will continue to drive this industry," she says. "The winners will know that technology is not a replacement for talent. 0You can't automate everything."
CHRIS CALVERT
Wells Fargo Community Bank President
One of Chris Calvert's most memorable experiences came early in her career. She was new in her job as a financial analyst and several months pregnant, when her boss was stricken with a sudden illness. Calvert was expected to step up. "I was thrust into the spotlight with very little training," she recalls. It was a difficult time, Calvert admits. "I learned to tap my resources and to have courage." In 2005, Calvert found strength from that early experience, when, after seven years as Chief Financial Officer of Wells Fargo Community Bank's Rocky Mountain Region, she was asked to take the helm as president of the bank's 18 branches in south metro Denver. Initially, Calvert told herself that she wasn't ready. She had been very successful in the "back office" — bankspeak for positions requiring little to no customer contact. She liked working with numbers and hard data, developing strategies, models and controls that led to high-level business decisions. "I was being asked to move from behind the scenes to being out in front with my own goals," she says. "It was definitely outside of my comfort zone." Calvert realized, however, that it was time to move on. She wanted to round herself out. "I needed to learn the operational side; get to know the customers," she says. Calvert turned to people on her management team to hone the skills she'd need to make that move. When the promotion came, she was ready. "It was one of the best things I've ever done," Calvert asserts.
It's a far cry from what Calvert thought she'd do with her life. As a math major at the University of North Dakota, Calvert thought she'd become a teacher. "I liked the logic and rhythm of math," she says. But she told herself that she needed business knowledge to be a better teacher, so she switched her major to finance. An internship with a bank sealed Calvert's career direction. "I liked that I could combine my interest in both math and finance and that I could also connect with people," she says. Her first job out of college was with Wells Fargo, and she's been with the company ever since. Over the years, Calvert's desire to teach has shown itself in little ways. "I love to give presentations — teaching others and sharing knowledge," she says. She sees her work today as the perfect combination of intellectual complexity and personal relationships. "In this business, we help people achieve their life dreams, and we're here for some of the biggest moments in our customers' lives: buying a home, saving for college and retirement. It's so rewarding," she declares. Calvert has found energy from her new leadership role. She says she's not in her comfort zone yet, but that's just fine with her. "I love what I do, and I take comfort in that," she says. "When you're not afraid to take a risk and get outside your comfort zone, you can do anything."

SANDY LARSEN
Founder/Branch President, Colorado Capital Bank
One way to get past barriers is simply not even to know they are there in the first place. Sandy Larsen's career started somewhat unintentionally at a small finance and insurance company in the late 1960s. "I really didn't know what I wanted to do, but it was a place to start," she says. Larsen found that she had an affinity for finance and turned it into a career. She didn't realize until quite a few years later, when she was established in her career, that women were discouraged from working in finance in the Denver market during those early years. "I didn't figure that out until I had already made a name for myself," she says. "I remember thinking what an odd concept that was, that if someone just worked hard, they could prove themselves and become successful." In 1998, Larsen's entrepreneurial vision produced Colorado Capital Bank. Today, she is a partner and shareholder, and she is president of a branch location in Parker/Stroh Ranch. As if those responsibilities weren't enough, Larsen is on the board of directors for both the holding company and the bank, and is also on its executive committee.
It should come as no surprise, then, that Larsen confesses to being something beyond a Type A personality. "I'm very competitive, and when I see an opportunity to enhance my personal or business relationships, I get very focused and driven," she says. Larsen balances that competitive spirit and desire to influence outcomes with a genuine eagerness to help others succeed. "One of the best things about my job is working with my staff and seeing them push themselves to meet the challenges our clients put before them," she says. A major challenge Larsen envisions is in how to manage the seemingly endless possibilities technology presents to the banking industry. Finding the possibilities fascinating and overwhelming at the same time, Larsen avoids the kid-in-thecandy- store approach in choosing what her bank offers its customers.
"Technology has opened up so many avenues for the end user, and there is so much on the horizon that the possibilities are almost endless," she says. But she is quick to put it into perspective. "It's easy to find a bank that offers a wide variety of products and services," she says. "It's not so easy to find one that focuses on client relationships." Larsen relies on a simple equation for success. "Education is not everything, but it is important," she says. "Knowledge and experience produce confidence, and confidence makes you stronger." She has learned to trust her instincts and to appreciate the chain of events that even the smallest contributions can affect. Those contributions, combined with a genuine interest in making a difference, result in big returns all the way around.
DONNA PETROCCO
President, Valley Bank and Trust
The last thing Donna Petrocco thought she'd do with her life is work for a bank. "Absolutely not!" says Petrocco, who came from a family of bankers. "Dinner at our house was like sitting through a board meeting." Petrocco grew up in Brighton. As a teenager, she got an after-school job at Platte Valley Bank & Trust. With the exception of a few years when she was living out of state, Valley Bank & Trust — as it's called today — has been her sole employer for 34 years. She's seen it grow from a hometown bank to 13 locations serving a number of communities in metro Denver and $250 million in assets. As president and Chief Operating Officer since 2000, Petrocco is responsible for all the bank's operations except its bond portfolio. In this age of megabanks at major city intersections, and a lot of customer contact taking place through distant call centers, local banks in smaller communities are a rare find. Petrocco is proud that Valley Bank & Trust has kept that hometown touch. "We're independent of a holding company," she explains. "We are locally and privately owned, and we know all of our shareholders." One benefit that touches everyone from employees to account-holders, she says, is the absence of the layers of bureaucracy that choke decision making. "We make all of our decisions right here," she says.
And, as Petrocco is quick to point out, banking is a lot more about people than it is about money. "People like to be recognized when they walk in, and once they're here, I think they appreciate that we have the flexibility to make decisions and come up with solutions that work for the bank and work for the customer." Petrocco adds that, while Valley Bank & Trust still offers that Main Street charm, it also provides customers with the full-service financial offerings people have come to expect. "We do a lot more than checking accounts and loans," she says. "People think they need to go to financial advisors for long-range planning and big money decisions, but they can get that all right here, from their first home loan to their retirement investments." Unlike many in banking, Petrocco doesn't have a degree in finance or economics; she has a degree in human services. She finds that her knowledge of psychology and sociology are extremely valuable in terms of how she works with employees and understands customers. "I like being a counselor and listener," she says. "I want people to open up to me." Integrity and character are high on Petrocco's list of core values. She drafted an ethics policy before ethics became a buzzword in the business world, and she makes it clear to employees that she expects people to do the right things for the right reasons. "I'm high on raising the bar; it's so important to know that you have a team where the right people are in the right jobs and that everyone shares that trust and vision," she says.
Petrocco also knows the importance of being prepared for the unexpected and being able to rely on her team when they're needed the most. "In 1999, we had a fire in our IT department," she says. It was 3 a.m., and Petrocco, a bank cashier and the bank's IT officer sat poring over the disaster recovery plan the bank had developed to address potential Y2K issues. "Thank goodness we had that plan," she says. "Because of it, we didn't skip a beat — most of our customers didn't even know there was a fire." It wasn't long after that incident that the bank's board asked Petrocco to accept the job of bank president. As she considered the offer, Petrocco realized that she was up to the task: "I knew I could do it because I knew I would have the support I needed." Today, Petrocco still gets inspiration from her customers. "I get motivated from the excitement and the possibilities," she says. "People come to us for big things in their lives: their first home, a new car." She's proud that her bank can downplay automated loan requests in favor of simply talking to people face-to-face. "We're willing to take a chance," she says. The return for her is immediate. "When you're working with a young family and nobody else would give them a loan, the look on their faces when we tell them we'll help them is all I need," she says.
By SUSAN SHEFFLOE SPEER
Photography RICK HEITMAN