She's energetic, family-oriented, community-minded and busy. Call it luck, good fortune or simply a random alignment of stars over the Rocky Mountains. Some say the Denver woman lives in a city where women are vital forces in economic, civic and social communities. Whether she drives the preschool carpool in a sports utility vehicle, takes the light rail system to her downtown Denver office or pilots a convertible to her suburban office park job, she's on the go, a woman with a mission — in fact, several missions. We will talk with five women who epitomize the essence of the Denver woman: energetic, healthy, talented, spirited and community-minded. Like the legendary Baby Doe, who arrived in Colorado from the Midwest in the late 1800s and captured the imagination of Horace Tabor as well as Denver society, the Denver woman is strong, resourceful and determined. She doesn't faint at the prospect of high-altitude living. She uses the rarefied air to hone her skills as a climber of mountains — or of corporate ladders.

EDIE MARKS
Like Baby Doe, many Denver women have been born elsewhere. Edie Marks, a Denver real estate icon since 1977, came to the Mile High City from New York. She and her husband, Mort, moved west, where they lost most of their financial resources in a commodities downturn. "We lost everything except for our house and car," she says. Undaunted, Marks decided to go to work. "Mort suggested I sell real estate. The first year I sold more than a million dollars in real estate," Marks recalls. The real estate business was perfect for Edie Marks, as her husband so astutely recognized. She brought a high-octane style to the business that became a career as well as a calling for this woman who made an avocation of giving back to the community. Married to Mort for 40 years, Marks says he's always been in her corner. "He's supportive, he's there for me," she says. When asked to describe the Denver woman, Marks doesn't hesitate: "Most likely she came from somewhere else. She's grateful for the beauty of Denver and the opportunity to do what she likes to do. Denver is open and accepting and so conducive to success."
Marks should know. She has received many awards and has been ranked among America's most successful realtors. While juggling a non-stop schedule of work and community commitments, she handles all the details of her transactions and still writes the contracts by hand. "I'm not good at delegating," she explains. Associated with Kentwood Company for the past 10 years, Marks says she couldn't imagine a more supportive company. She gives as much as she can to the community's nonprofits, serving on boards and helping with charitable events. Among her activities are the Cancer League of Colorado, the Cherry Creek School Foundation Board, Bob Goen Children's Charities, Kempe Center, the Kempe Children's Foundation and the Denver Center for Performing Arts. She is active in business and civic organizations and has been honored many times as a founder, outstanding member and role model by associations and organizations. Marks credits the Denver woman with a depth of compassion and spirited volunteerism that inspires the community's growth. "We're running the charities and bringing them compassion as well as knowledge," she says. "The Denver woman is a master at balancing and values family above all else, and she will participate in any activities that make the family stronger and better."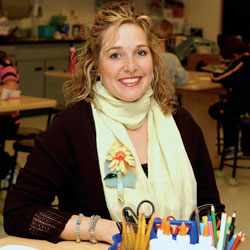 MARY LYNN BAIRD
Mary Lynn Baird is an example of a Denver woman who combines career and family, putting devotion and passion into both of these major aspects of her life. "I love what I do. If you choose a career or a vocation, I chose a vocation. I have a big plate of about 450 things I want to do," says Baird, an elementary art teacher in Englewood public schools. Baird attended the University of Nebraska in Kearney and finished a master's degree at Lesley University's outreach campus. The Creative Arts in Learning course she studied was "one of the best experiences I've ever had," she says. "There were 25 women traveling through this great experience together." Raised on a Nebraska farm, Baird learned early from her father that "you should pick up a solid occupation." Her ultimate choice, to be an art teacher, is OK with her father. "My siblings and I were all competitive with each other. They all strived to be good at what they do," she comments. Baird's husband, Mike, is involved with artistic pursuits, too. He choreographed a collaborative piece with the Colorado Symphony Orchestra that featured art work by students.
In addition to a family that includes Mike and three children, Baird has a business with a friend called 2 Wacky Chics. The two artists paint furniture that is funky and fun and is featured on their Web site, 2 Wacky Chics.com. The art teacher does fine art in addition to her other endeavors and recently showed her work at Mile High Coffee in Englewood. A piece of art she created for Willow, an artist's cooperative, was featured on T-shirts and postcards used to publicize an event in Littleton. Baird is a member of Save the Intuitive Response, or STIR, a group of artists whose members want to make art. All art teachers, they work at keeping creativity alive. Still Trying in Reverse is what Baird envisions when she thinks of STIR. Among their projects is a show at the Michener Library in Greeley on the University of Northern Colorado campus. As packed as her life is, Baird says she has little time for sleep. She thinks such high energy characterizes the Denver woman. "I think someone who is passionate about many things in life and likes to take it all in defines the Denver woman. She has to be ambitious. She'd be ruining someone else's chance to live her life if she didn't get out there. She'd be taking someone else's slot," Baird says.
Now in her 19th year of teaching in Colorado, Baird is living a dream she had from the time she was young and vacationed in Colorado. Her dad said to her at the time that he wanted one of the children to get a job in Colorado so he could visit on vacation. She says, "So, I said to myself, 'I want to be the one to do that,' I can remember." Baird's passion for art is lived regularly in her art classroom. "Teaching art is a piece of the puzzle. The Englewood school where I work is very supportive of the arts, and we have a great arts team," she says. Giving credit to the Englewood Education Foundation for having been supportive of the arts grants she has written, Baird is enthusiastic about her love of art. She says she likes to think of her own personal theme as Oh, the Places We'll Go by Dr. Seuss.

ASHLEY BOLIN
Another Denver woman who lives a life of purpose, Ashley Bolin blends work and family into a meaningful combination. Sleep deprivation defines her life, though she doesn't mind since she is able to enjoy both a family and a career. The former San Antonian moved to Colorado 10 years ago when her husband enrolled at the Colorado School of Mines in Golden to work on a master's degree in environmental engineering. With two degrees of her own, one in psychology and one in public relations, Bolin decided to return to college for a doctorate in nursing. "I graduated one week and gave birth to our first child the next," she says. The degree steeped Bolin in the science of healing both mind and body through traditional and holistic medicine. She studied at the University of Colorado Health Sciences Center. Now a nurse at the Children's Hospital, she serves on a float team, which means she works in a variety of departments. "It keeps you on your toes," she comments. Nursing fits perfectly for Bolin as she is able to care for her own young children during the day by working late shifts and having a husband who cares for the children while she's at work. "Other than a lack of sleep, the schedule works very well," she says.
Spending 24 hours a week in health care, Bolin feels fortunate to have what she wants. The family includes two children and Sydney, a yellow Lab. They are great fans of the outdoors and take their dog snowshoeing and hiking with them. "We love it here — the weather, the scenery, the attitude — we love it all. We live in the suburbs and now enjoy it more than we thought possible," Bolin says. Bolin believes the Denver woman is someone who gives back and serves her community by volunteering. She is also vigorous about her physical pursuits. "She is healthy and active and outdoorsy. The Denver woman is well rounded, able to juggle a social life and more. She seems to be well grounded. She has put her priorities in order. Material items seem to be a little less important," Bolin says. In addition to her active family and work schedule, Bolin makes time for friends. "I have interesting friends here –- family-oriented friends, play groups for the kids. I've made extraordinarily good friends here for life," she says. Bolin is active in Junior League and her church, where she sometimes teaches her children's Sunday School classes. With the League, she has focused on tracking donors and assuring that they are thanked. With the League's current focus on children, there is an emphasis on child development and pediatric advancement that appeals to Bolin.
LEANNE DEISTER
Keeping the Denver entrepreneurial spirit alive is Leanne Deister. Co-founder of Supper Solutions, Deister dreamed of a business that would help women manage the busy pace of life and keep healthful living a priority. She and her partner, Sandy Gargac, were two corporate mothers who were tired of the daily routine and wanted some relief at the day's end. They had heard about people going to recreation centers and making dinners together, an inspiration for their business idea. "I think people have so much going on in their lives, working too many hours, taking the kids so many places. Our pace of life is so fast, and many moms suffer from 'mommy guilt'," Deister says. Deister and Gargac envisioned a business where people could buy healthy meals for their families and avoid time-consuming shopping and cooking. "It's financially less expensive than doing all this on your own," Deister says of the model for buying dinners already prepared. "When you're coming into our kitchens, you're buying just what you need, not a lot extra because you need one tablespoon of this or that ingredient." Selling franchises of Supper Solutions has proven to be a winning recipe. By last December 7, some 18 Supper Solutions were opened. "Each franchise is a little different," Deister says. Deister, a transplant to Denver, loves it. "I'm never leaving Colorado. I love it. This is a very nice place," she says enthusiastically. "Women in Denver are striving to be amazing. I know so many strong women here who think outside the box. They are real forces to be reckoned with." Deister has lived in Arizona, Illinois, Indiana and Kentucky. She and her husband, Jim, have two children, a son and a daughter.

TROY DICKERSON
A recent newcomer, moving here from Dallas in 2004, Troy Dickerson is already fully engaged in the Denver community through her work with Denver's ethnic communities and the philanthropic work she does on behalf of Coors. Dickerson, director of corporate relations for Coors, grew up in Chicago and wasn't accustomed to spending much time outside. "Chicago is about a fourmonth outside city. People didn't spend much time outdoors there," she says. She comments that moving to Denver from Dallas was easier than moving from Chicago to Dallas. "I had been back and forth to Denver from Dallas so I knew the streets, knew my way around," Dickerson explains. At 36, Dickerson says she has no husband or children but believes "one day it will happen."
She introduced her parents to the mountains by flying them to Denver and then taking them to Beaver Creek for snowmobiling. "It was a totally different experience for them. They were surprised by the scenery and the beauty," she says. They want to return for another trip to the mountains in winter. An employee of Coors for the past three years, Dickerson began her Coors career in Dallas, where she worked as a director of human resources for a portion of the organization. "After a year, the opportunity came up to move to Denver and take the corporate relations position," she says. She had worked in employee relations until her move to Colorado. "The employee relations skills were transferable skills for me," she says. "I had been doing many of the things I do in corporate relations. What we do in corporate relations is much the same as what we did in employee relations." The team of 10 that Dickerson manages is engaged in philanthropic work. Team members work with various ethnic constituencies. "Our job is to build brand around corporate responsibility," she explains. With an undergraduate degree in business administration and marketing, Dickerson went on to earn a master's degree in labor and industrial relations at the University of Illinois at Champaign/Urbana. She expected to continue marketing studies, but one of her professors' wives was looking for an intern. Dickerson took the internship and stayed on to study human resources.
"This career path works so well for me. It's a good combination of business and human resources. The internship involved working with strong women. One of them taught me to be professional," Dickerson says. The self-described "nerd" says she studied hard in school and gets a lot of enjoyment now out of being involved in events that create opportunities for interaction with communities. "Relationship-building is important for me day to day. The people on my team have great relationships with groups in the community. To be the person at the table watching the person getting a scholarship is very rewarding," says this new Denver woman. The Denver woman is energetic, healthy and, in Troy Dickerson's words, "she is multi-dimensional. People here are really engaged."
By SHARON ALMIRALL
Photography RICK HEITMAN