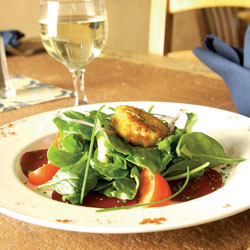 Le Central, the affordable French restaurant. On a cold December evening I entered the lobby of Le Central. It was packed. Large groups gathered, waiting to be seated. I was glad I had had the foresight to make a reservation. As I approached the maitre d', I said "Wow, busy night." He smiled and said, "This is nothing." He told me my table would be ready in about five minutes. I asked if I could wait in the bar, and he motioned to his right. I was tempted to get a martini and check my coat at the same time but decided just to watch the crowd and wait for my dining companion, "M," to arrive. True to his word, the maitre d' seated us within five minutes. He took us through one of the dining areas into the porch area with bare wooden floors and the rustic appeal of a restaurant in the French countryside. Assorted sizes of cork and tile tables placed in an intimate setting gave the space a feeling of a Parisian sidewalk café or bistro. Our waiter, Jason, was very helpful, very nice, very honest and very knowledgable about wine. He recommended a 2002 Graves, Chateau Ducasse Bordeaux. It was a blend of Semillon, Sauvignon Blanc and Muscadelle grapes. It was a perfect choice. "M" preferred a drier white, and Jason recommended the 2004 Touraine Sauvignon Blanc, which is a very dry 100 percent Sauvignon Blanc with a well-developed bouquet. Both complemented the cuisine beautifully.
As an appetizer I ordered a cup of the French onion soup, and "M" ordered Petit Chevre Fondue a la Provencale (goat cheese flavored with olive oil and topped with sweet balsamic onion marmalade and bread crumbs.) The soup was excellent. The goat cheese was good, but it would have been better if shared by four, not two. For our next course, we ordered Escargots en Brioche (six escargots baked briefly on a slice of brioche covered with garlic butter flavored with Pernod.) The escargots had a meaty mushroom texture, and the Pernod gave them an exquisite, delicate flavor. If you like escargot, I recommend these. They were quite good. Next course was Clams Casino (baked clams on the half shell topped with seasoned bread crumbs, bacon, butter and shallots over mixed greens). The clams were very small and there were no mixed greens. In addition to the regular menu offerings, each evening the chef creates a prix fixe menu. This evening the menu featured black winter truffles from China in a prix fixe offering of $29.50 per person. This inspired us to order Le Plat Vegetarien, which consisted of creamy truffle risotto tossed with asparagus spears. It was excellent.

Jason told us that Le Central had recently acquired a talented new pastry chef. For dessert I ordered my favorite Crème Brûlée. "M" ordered the Profiterole, and it was heavenly. I thought it would be served as separate small pastries, but it appeared as one large light pastry with ice cream, smothered in a divine chocolate sauce and shaved almonds. Perfect with my decaf latte served in a widemouthed cup with lots of foam. YUM! The ambience at Le Central is comfortable and unpretentious. The staff throughout the restaurant is friendly, and the service is incredible. This is the perfect place to come and unwind and sample new wines or sip some of your favorites. The food offers an excellent way to sample French cuisine, and the prices are truly affordable. Our bill came to $67.29 before tip. Make plans to visit Le Central soon. Bon appetite!
by KARYN RUTH WHITE
Photography KIMBERLY DAWN