If the end of summer has you feeling glum, Historic Denver and the Molly Brown House Museum have a host of programs to keep your fall fun. From exploring historic homes, to hearing from Victorian authors, our virtual and in-person events will pique your curiosity! For more information or to register, visit historicdenver.org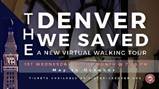 The Denver We Saved is a virtual tour highlighting some of Historic Denver's most dramatic saves from the past 50 years. We will be offering this tour on September 1st and October 6th at 7pm. Looking to learn more about Denver's places and how they intersect with past and present? Join us virtually for the last two Empowered By Place programs of the year:
Five Points Historic Cultural District: On September 2nd we'll explore the district's history and learn how a cultural district has impacted the community.
Elitch Gardens: On November 4th we'll learn about its founder, Mary Elitch, and the efforts to restore the theater, which still stands at Elitch's first location.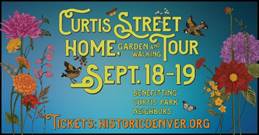 Ever wish you could see the interiors of some of the city's oldest homes? We've partnered with Curtis Park Neighbors to offer tours of 8 historic homes in the neighborhood during the Curtis Park Home Tour on September 18th and 19th from 10am to 3pm.    Do you enjoy topics too taboo for daylight hours? The salacious and seedy? Then join us for our last two 1340 Penn/After Hours of the year: 

Madness and Monsters: On September 16th we will meet Mary Shelly and her famous friends in this virtual program as they build their literary creations, including the famed monster of Frankenstein! 
Is Mrs. Brown Still Here?: On November 18th grab a flashlight and join us for a ghost hunt through Mrs. Brown's home as we try to find what does go bump in the night! During our Madams of Market Street Tour, we'll be joined by local author Randi Samuelson-Brown as she walks us up and down the streets that were part of her research on Lodo's Red Light District. Join us on September 25th from 6-7pm. When you imagine a haunted house, what do you envision? A Mansard roof? A widow's walk? Join us on October 7th at 7pm for the Architecture of a Haunted House, a virtual look at architecture types, styles, and features common in depictions of haunted houses. We'll also explore how and why haunted houses began to look a certain way in popular culture. This virtual evening will be paired with a driving map so that you can motor about on a moonlit night and find these classic styles among Denver's historic homes. 
SAVE THE DATE – And, the fall would not be complete without everyone's favorite event, Victorian Horrors! Our annual literary event takes place the evenings of October 14-16, 21-23, 28-30. Wander through Mrs. Brown's home and meet authors, long deceased, who will regale you in their favorite stories.  To join us for one of these programs visit historicdenver.org and register today! # Historic Denver Today What began with the Molly Brown House Museum in late 1970 has expanded into a citywide historic preservation movement. Through advocacy, restoration work, and partnerships the organization has secured a future for beloved Denver places and spaces, from the Paramount Theater to Union Station, the Dr. Justina Ford House to 9th Street Historic Park, the Baker neighborhood to the Lower Downtown Historic District. Today, fifty years into its work, Historic Denver engages the community through the Molly Brown House Museum, connecting visitors and students with themes from women's suffrage to voting rights, and supports action that honors our city's cultural history. Current community efforts include bringing forward the story of Denver's Chicano/a Movement in La Alma Lincoln Park, nominating sites for local landmark status, helping to shape the future of the Loretto Heights Campus and the National Western Center, finding preservation solutions for buildings in jeopardy, and creating an inventory of significant buildings and neighborhoods across the city through the Discover Denver project. Get involved at www.historicdenver.org.  
Margaret "Molly" Brown has been the subject of many books, movies, and stage productions, and has become one of Denver's most intriguing legends. Margaret Brown was an amazing and spirited woman and became active in the women's suffrage movement, labor reform efforts, and even survived the sinking of the Titanic! After her death in 1932 her Victorian home was sold and used for many different functions. By 1970 the house had fallen prey to deterioration, and was in danger of being demolished. A group of concerned citizens incorporated themselves as Historic Denver, Inc. and fought to save and restore the Brown home. The Molly Brown House Museum, 1340 Pennsylvania Street, is a celebrated Denver landmark and has recently completed a $1 million-plus restoration. Learn more at www.mollybrown.org.